One of the best parts about living in Los Angeles is all the great workout spots to unwind at after a tough day. The problem is there are so many to choose from and many studios have a hard time standing out from their competition. One of the best ways a local business can stand out is having a captivating and effective website.
One Down Dog is a yoga studio in my neighborhood that does a great job of separating themselves from other studios in the area. Their website is engaging, informative, and expresses their brand's personality. Generating demand for a local business from a website may sound challenging, but it's really rather simple.
Here are some of the ways One Down Dog optimizes their website from a demand generation perspective:
Great CTAs or Calls to Action – no matter where you look on the website, there is a place to sign up for their newsletter, share content socially or connect with their team. Each CTA uses actionable words or phrases that make you want to engage with their website. They also do great job of offering a couple different CTAs on the same page without coming off too aggressive.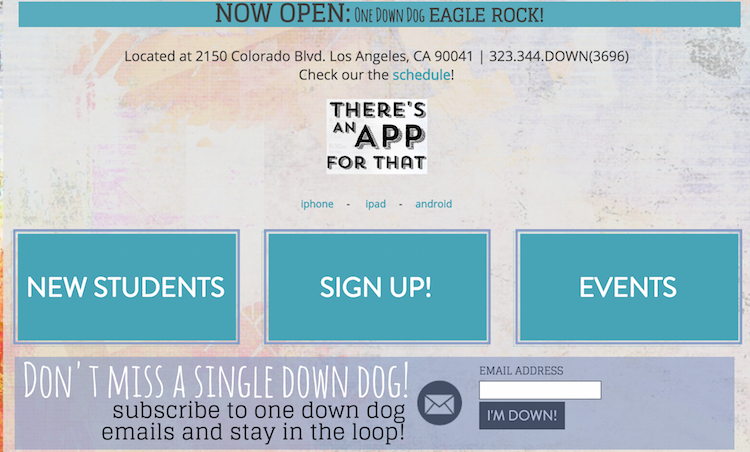 Photo Credit: onedowndog.com
Promote your app – If your business has an app, promote it! It's a great way to get your customers engaged with your business when they are on the go. One Down Dog's app makes it easy to sign up for classes, stay up to date on urban yogi news, and cancel classes on the go when life sometimes gets the best of you (or let's be real…brunch happens).
Accurate Location Data – It seems pretty simple, but it's hard for customers to find your business if your address and phone number are incorrect. The problem is that there are hundreds of online directories where your business could be listed. Making sure your location data is correct is key to gaining more customers. There are some other great benefits to claiming your business online here.
Social Sharing Icons –  Customers love to post photos and check into local spots around their city. Businesses can also use custom hashtags to engage customers in current promotions. Social engagement is a great way to connect with current customers and grow current customer lists by getting found online. Plus, it's fun to post photos and tag yourself with friends after a Sunday class (and then maybe forget to post that picture of the post-workout grub session at Machos Tacos down the street. Don't judge me.).
Connecting is Easy – One Down Dog's page is extremely user friendly. Whether you are a new student or a returning visitor, One Down Dog's website makes it easy to purchase classes, sign up or find out when the next class starts. They also make it easy to sign up for their newsletter.
Getting found, growing customer lists, and engaging with customers online are all things you can do by having a well optimized local page for demand generation. Think of your local page as your online brand ambassador and how your page can expand your current customer list.
Dylan Lake is a Demand Generation Manager at Connectivity.