There are listings and reviews, but where's the ROI? That was the subject of today's webinar with our presenters Kemal Demirhisar, Solutions Engineer at Connectivity, and Josh Ades, Connectivity Content Marketing Manager.
Below are some key takeaways from our webinar conversation (which included a Connectivity product tour as well!).
Also check out the SlideShare presentation at the bottom of this blog post.
Key Takeaway #1: Be a Special Snowflake
Fifty-nine percent of consumers use Google every month to find a local business. As you know, Google and other search engines use a lot of indicators to decide where a business ranks in search. It turns out that unique clicks matter, according to Kemal and Josh. The more people who express interest in your website, the more likely Google is to rank it higher in organic traffic.
Use listings and reviews to drive traffic to your website. How? Make sure that your online profiles are correct and optimized. When searchers look for your business or a keyword pertaining to your business, they are more likely to find your website and reviews from customers. This in turn leads to more clicks and visits to your website. Wash. Rinse. Repeat.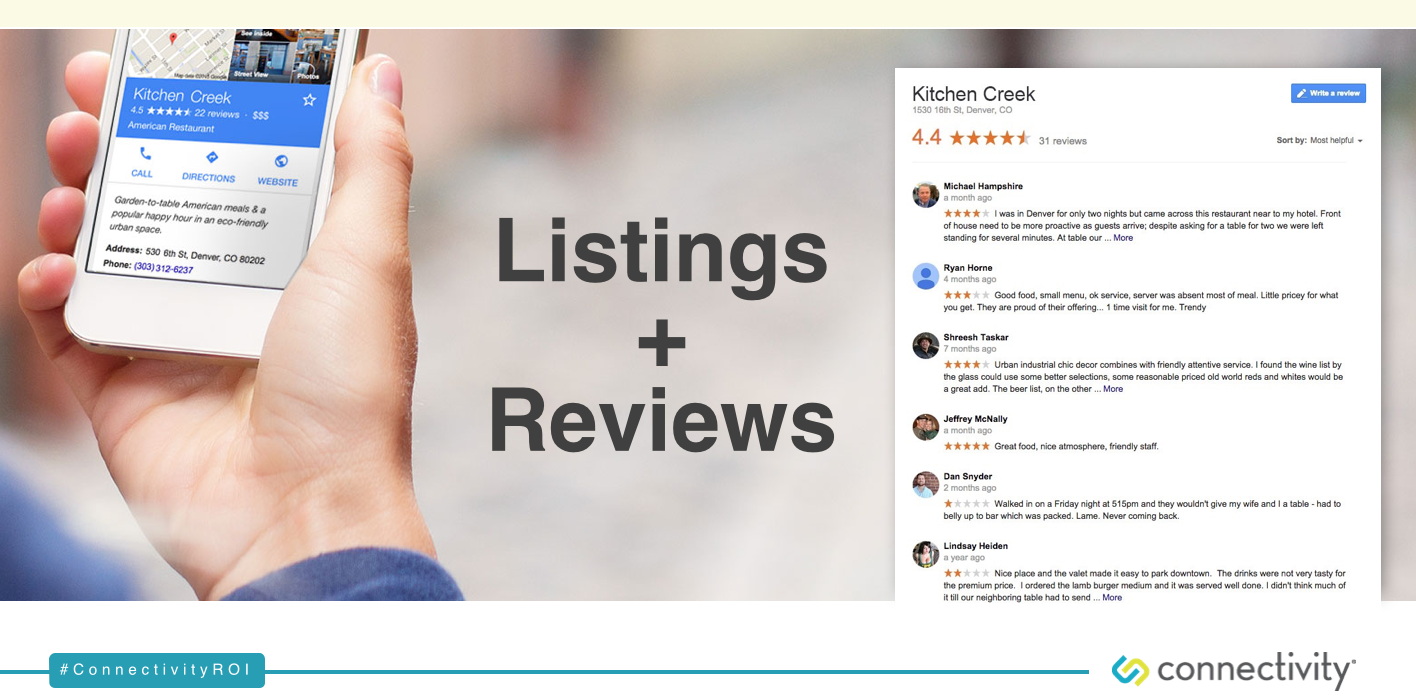 Key Takeaway #2: People Like People
Think about it: after searching for a certain type of business, when presented with three options and two of them having star ratings under their names, will you be tempted to click on the third business with zero stars? Probably not.
It turns out that people like choosing things other people have picked already. Josh and Kemal shared that it typically takes five reviews on Google to get stars to show up under a business's name. Why does this matter? It matters because searchers are more likely to click on results that display stars. Online reviews are thought to make up 10 percent of how Google and other search engines decide to rank results. Ten percent isn't huge but it's one more piece of the pie.

Key Takeaway #3: Fall in Love with Keywords
When was the last time you researched keywords? In the webinar we learned that by claiming and optimizing local listings pages, including those on Google and other local listings sites, Google will start displaying individual locations (if you have more than one business location) in the top local search results as well as give the primary domain a stronger domain authority. Stronger domain authority increases the search ranking.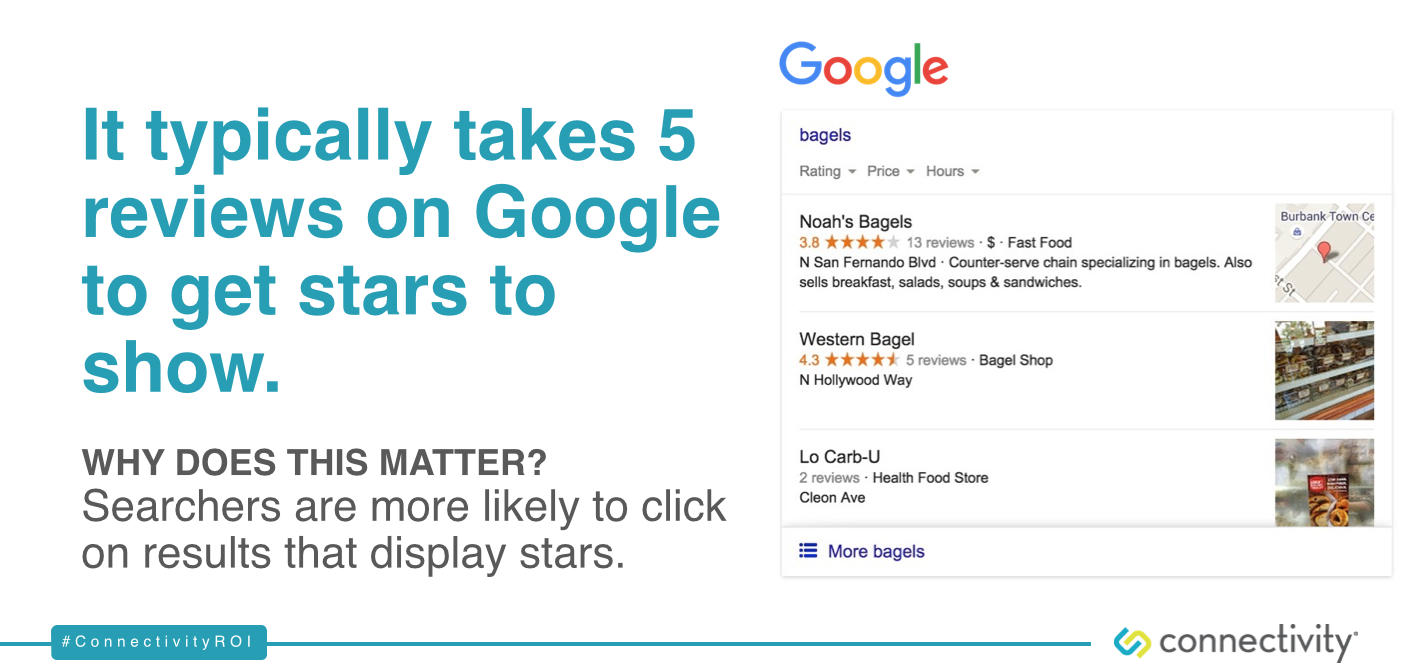 In basic terms, claiming and optimizing listings pages helps businesses appear high in search. This takes a lot of the competition out of SEO.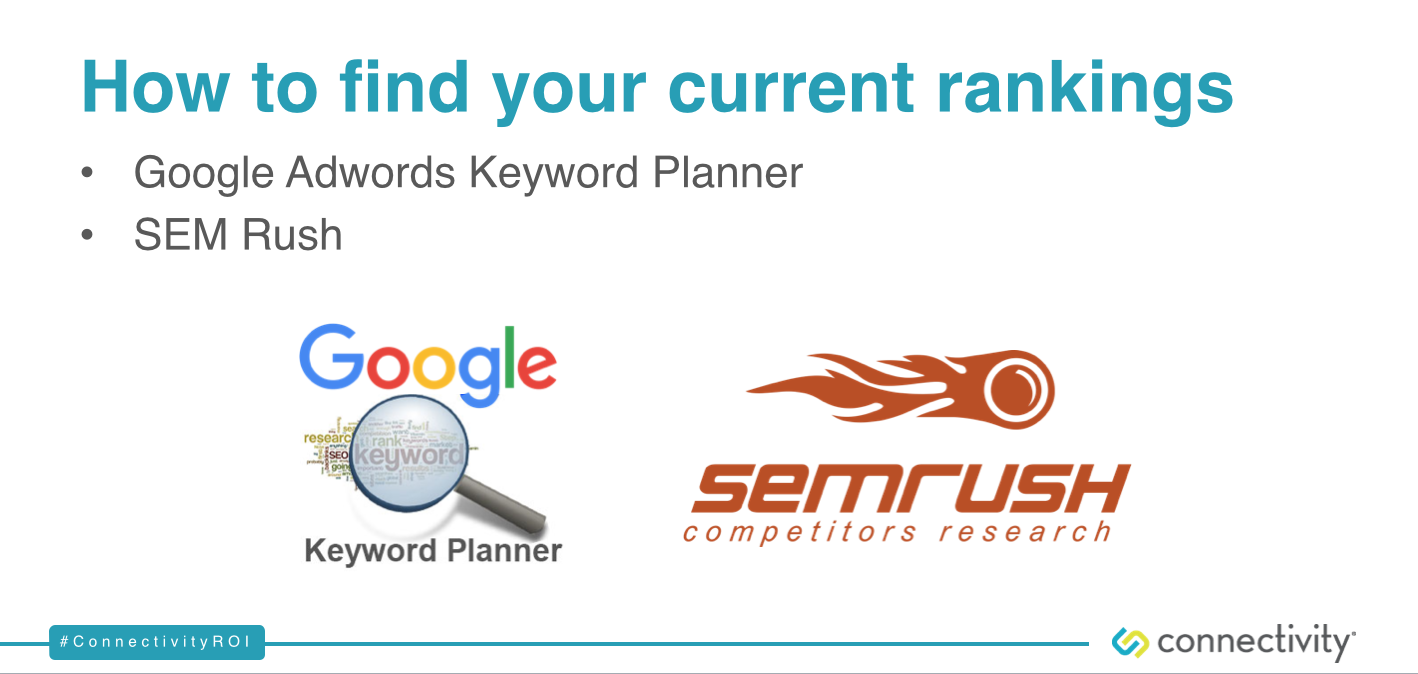 Key Takeaway #4: Tracking Matters
Get cozy with Google Analytics and track traffic from review sites to your website. What can you track? Any conversion goal you set up in GA such visiting a certain page, filling out a form or making a purchase. Look for a new Guide on Google Analytics coming from Connectivity soon.
Check out the entire webinar presentation here: