If you are a plumber, locksmith, house cleaner, handyman or any other service business, we want to let you know about Google's latest rollout. Late last week, Google launched a home services directory in its search results. So far, these search results only appear in the San Francisco area, but it's not uncommon for Google to use The City by the Bay as a testing ground before pushing a new feature nationwide.
Here's how it works: When a searcher googles something such as, "House cleaners in San Jose," the top results are local businesses that Google has verified. To be verified, a small business must use Google's AdWords Express tool and provide any required licenses, insurance and likely agree to be mystery shopped. Initial analysis indicates that home service ads function similar to other AdWords Express ads — bidding is a factor in placement.
Here's how it looks: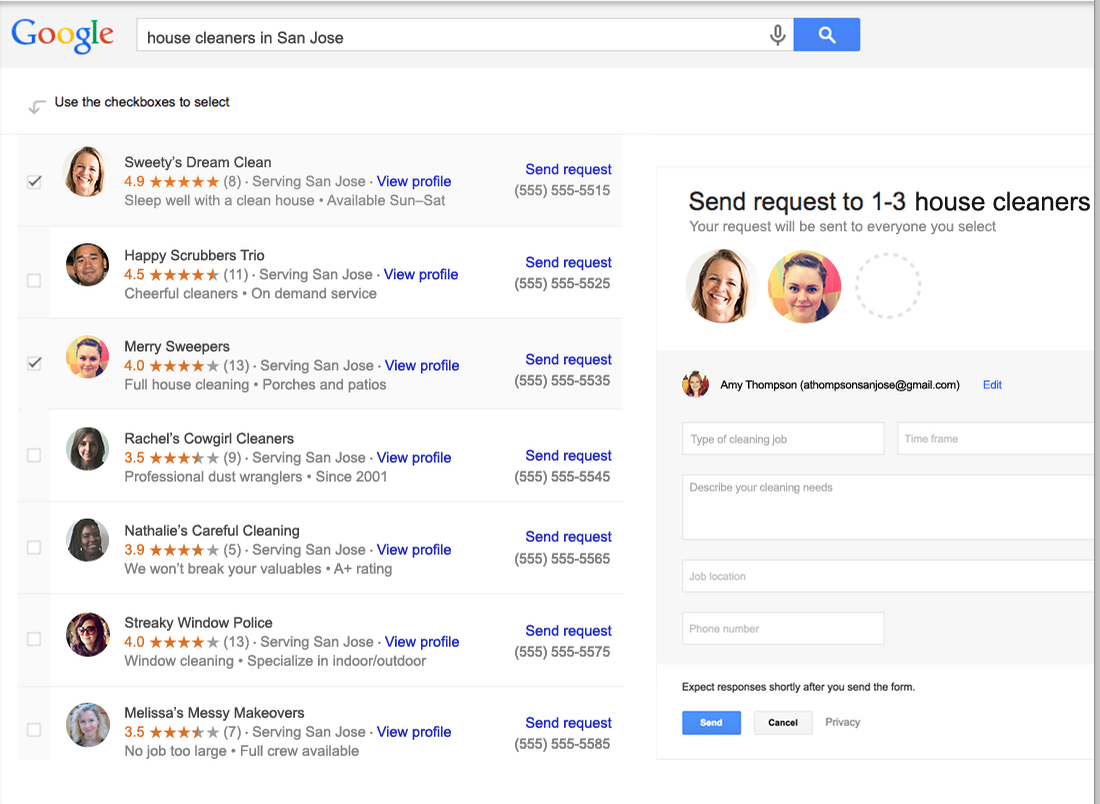 While we have some questions about how this new feature will impact searches, it is a clear step in Google's continued focus to improve local searches.
Notice the "send request" link to the right of each listing above. This link makes it simple for searchers to request information or schedule an appointment right from the search results. Google loves making it easier for searchers to achieve their goals.
These changes place an increased importance on customer reviews. If a searcher can submit a request directly from the search results, it's likely they will choose a business near them that fits their needs with the best reviews. Winning the review game on Google just got a lot more important.
Pro Tip: Download Connectivity's Essential Guide to Online Reviews FREE
While all of this makes it easier for consumers to find what they need, Google is also trying to make it a cinch for businesses to get listed with a home service ad. Here's an excerpt from their blog announcing this new feature:
"Let's say you own a home cleaning business in San Jose. Simply tell us about your business, get qualified, and we'll take care of the rest. Google will organize the information you give us into a polished profile page for your business, which includes a professional photo. When someone in your service area searches for "house cleaners" or other related terms, we'll show your profile within an expandable listing at the top of Google search results."
Another important AdWords Express feature with this release is the app. If business owners have the AdWords Express app, they will be immediately notified when a searcher submits a request and can therefore respond promptly. It's great for the searcher because they get a quick reply to their request, and it's great for the business because they get hot leads sent directly to their phone.
At Connectivity, we work closely with Google. We'll monitor updates and connect with them to understand how home service ads will impact searches.
Here are a few key questions we will look into:
Will home service ads replace the current local search results for relevant searches or will there still be organic local search results?
Will Google pull address and contact information from a business's existing Google My Business page or does each business have to provide new listings information?
Does AdWords Express help a business get a review once a business provides service for a customer that found them through a home service ad?
How long does it take to appear in search results after joining the program?
We'll publish updates as we learn more. To be sure you don't miss any news, please subscribe to our blog.
Josh is the Content Marketing Manager for Connectivity