Did you know that Twitter users are more likely to stick with brands they follow? This means if you're not on Twitter, you're missing out on sales and customer relations opportunities. Here are nine easy ways to boost Twitter engagement and grow your following so you can get more customers in your business and increase your sales.
1. Craft Great Tweets
There is a learning curve to Twitter: to be successful you need to be concise and engaging, make use of hashtags, and communicate with other Twitter users and your followers. Craft your tweets in such a way that they develop your brand voice and generate followers, and remember to keep your tweets relevant to your business and followers. If you are just starting out, it's also important to remember that you need to post regularly, and that this is not a medium on which to broadcast, but to engage with others—be sure to retweet and mention others too.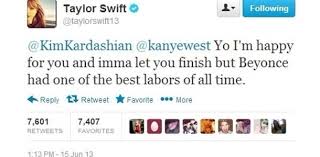 well played, T Swift 
2. Make it Easy to Find Your Profile
Just because you're on Twitter doesn't mean people can find you. Include your Twitter handle on business collateral like business cards and printed receipts. Add a link to your Twitter profile on your website and any other social media accounts you have. The easier you are to find, the more followers you'll engage.
3. Use Hashtags
You've seen them everywhere—short phrases or words that start with #, or hashtags. These hashtags are searchable and they are fantastic ways to begin and join conversations. By using a hashtag, you're increasing the accessibility of your tweets. Be careful, though. Refrain from using more than two or three hashtags, or extremely long hashtags, in one tweet. People's eyes will glaze over and it'll just look cluttered.
4. Start and Join Twitter Chats
Twitter chats are the perfect way to engage your followers and others who may have similar interests. Become familiar with your industry's popular hashtags, check out what's being said, and join in on these chats. The conversations on Twitter are meant to be public, so don't be afraid to chime in if you've got something to say. You can even start your own hashtag and see what kind of contributions are made.
5. Encourage Retweets
When people retweet a tweet of yours, it is posted to all their followers, automatically increasing the reach of your initial tweet. A witty, concise and engaging tweet will most likely be retweeted, so make your tweets are up to standard before asking your followers to retweet something. Be sure to reciprocate and retweet others as well—not only is it good to support other users, but it will also alert them to your account as well.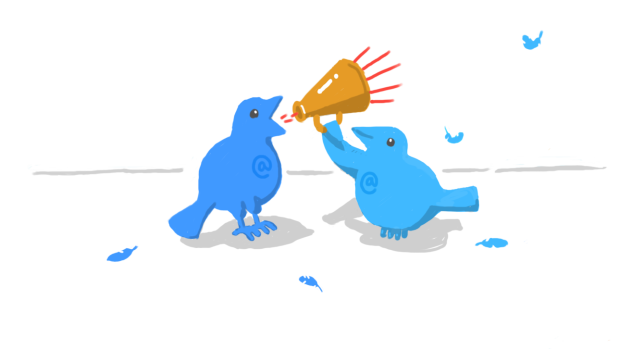 6. Use Exclusive Offers
Tempt your Twitter followers with Twitter-only exclusives, also known as the Twixclusive (say that 10 times fast). It's an exclusive sale, a special discount or a behind-the-scenes look at your business offered only to your followers. You can make use of unique coupons to track your results and reward your followers, drive sales, build customer loyalty and attract new followers.
7. Respond to Your Replies
Similar to joining Twitter chats, when people mention (@reply or "at reply") your business, respond to them. Give them a thanks when they say they love your new products, or a "We like them, too!" when they compliment your staff. This is a great way to let your followers know that you're listening and paying attention, which means they'll be more likely to continue bringing in the business.
8. Try Twitter's Business Solutions
If you have a bit of extra cash and you want to use it towards marketing initiatives, give Twitter's business solutions a try. There are tools to help you grow your followers, increase engagement and drive website clicks or conversions. One option could be making use of Promoted Tweets to increase the reach of a tweet and drive engagement. Twitter's business solutions are money well spent if Twitter is important to building your social media presence.
9. Use Connectivity
With Connectivity, you can keep track of what people have said about you on Twitter (and other social media channels) in one place, making it easier to respond to customers and join the important conversations. These are both important to boosting engagement levels and increasing your follower count, both of which only stand to benefit your business down the road.
Top photo credit: Bloomua/Shutterstock
Anne Preble is a Volume Nine contributor to the Connectivity blog.