There's no shortage of brands responding the wrong way to online reviews. Enterprise businesses everywhere have taken a page from the Book of Bad Marketing by:
Ignoring negative reviews
Mocking the reviewer
Telling the reviewer she is wrong and the business is right
Auto-replying with the same canned answer for every comment
Paying attention to negative reviews but ignoring the positive ones
Deleting negative customer comments from the brand's Facebook page
In this post, we'll focus on the right way to respond to online reviews for enterprise brands and local businesses alike. Before we get started, it's worth mentioning the most important thing to remember as you sit down to craft review responses: Behind every review is a person. Respond to the person like a human, not a "brand voice." And don't forget that your review responses live on forever, so think carefully about what you will write.
Here are a few review responses we've admired lately. Take a few pointers for your response strategy.
Atlanta – Cantina
In the first review, a Yelp reviewer rated an Atlanta Cantina three stars and found fault with a few things.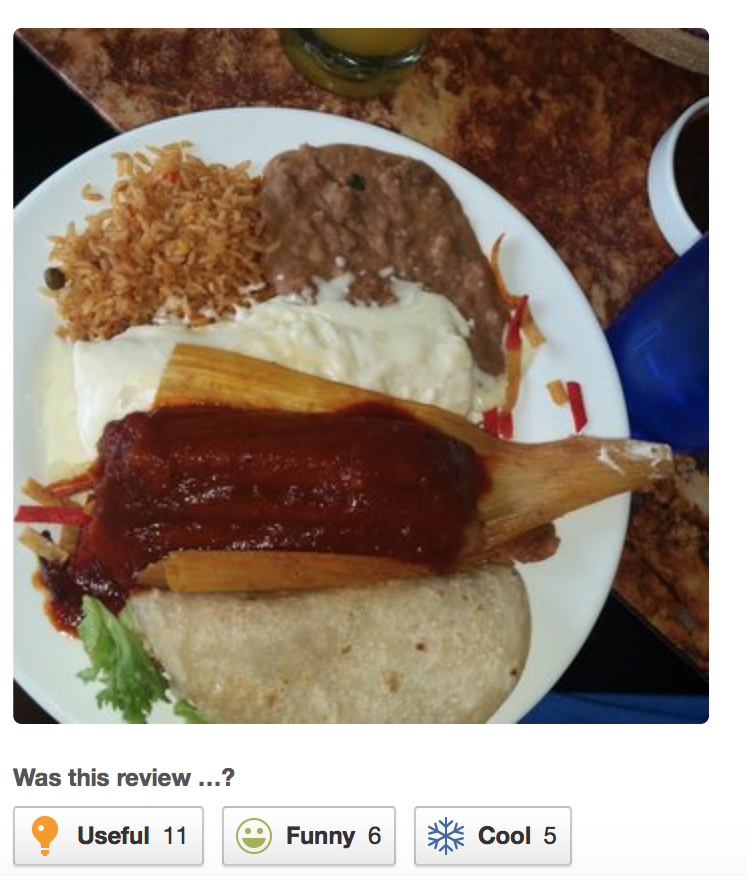 The owner Walter B. responded. His answer is confident and strives to educate about parking options and the cantina's tortilla choices. We don't hear defensiveness in Walter's answer—but we do hear a pride in his business and a willingness to hear concerns.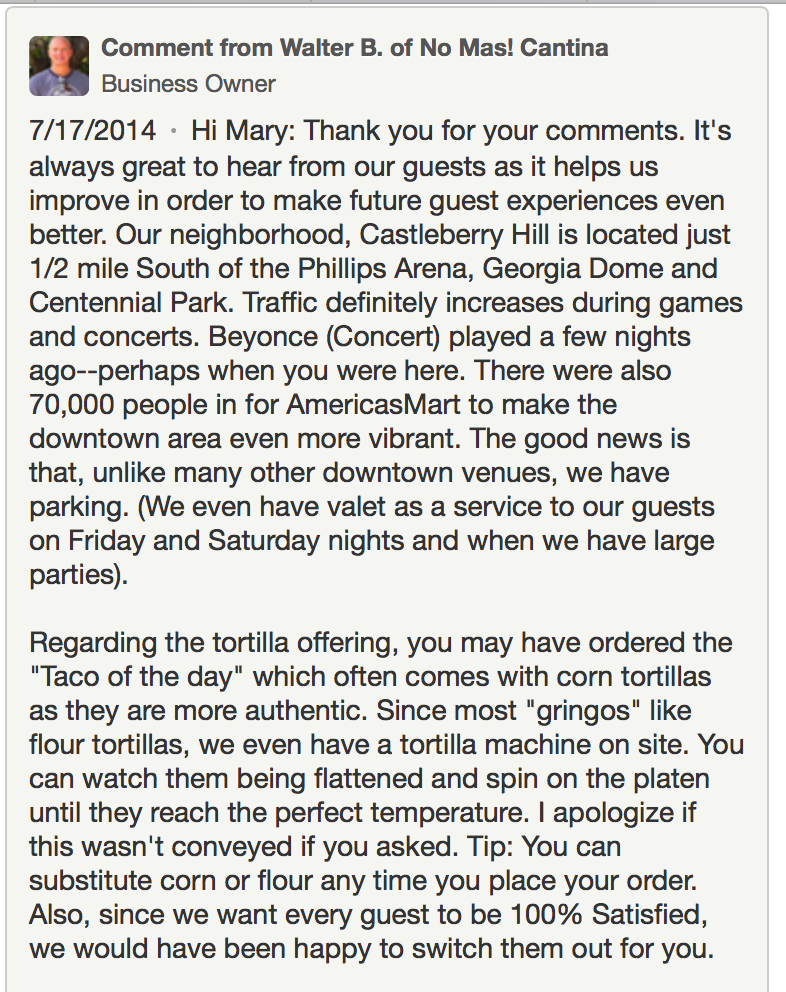 Denver – Linger
In Denver, restaurant Linger monitors their Facebook reviews with a speed that impressed us. Timothy's review popped up on Wednesday, July 1 and Linger's response was posted not long after.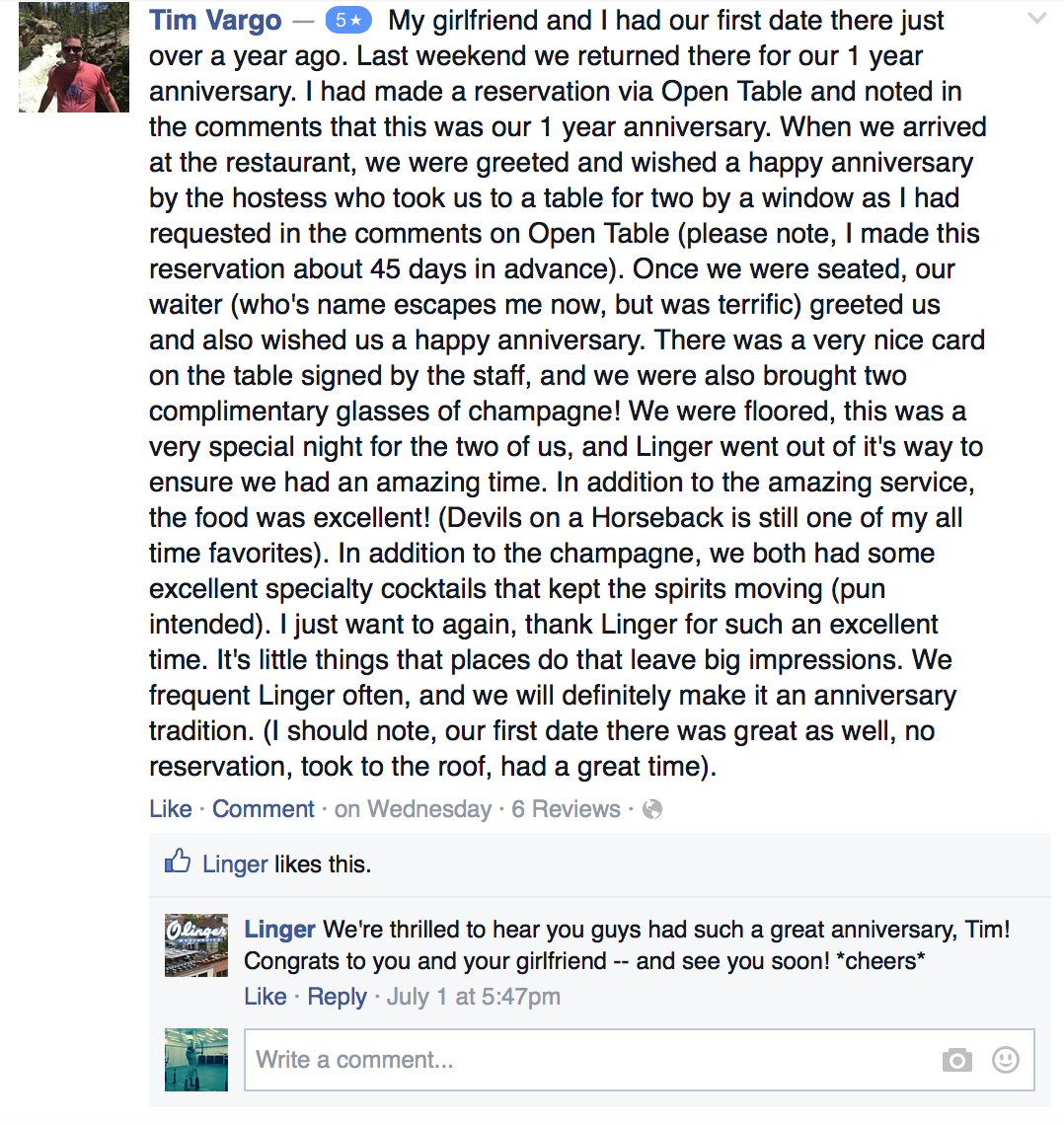 Linger's response was spot-on. Friendly and authentic, it offered the customer one more personal connection to the restaurant. As a reminder, Facebook reviews are important because people are much more likely to trust their friend's reviews over a stranger's opinions.
Greenville – Soby's
Our last review is for Soby's, a restaurant in downtown Greenville, S.C. Recently, a diner left a five-star review for Soby's on Facebook. Many local businesses and enterprises make the mistake of ignoring positive reviews. We realize it takes a little effort, but make it a point to thank each reviewer who posts on Yelp, Facebook and other sites. (Connectivity customers can respond from our platform quickly and easily.)
Here is Soby's response to the 5-star review. Gracious, fast and personalized: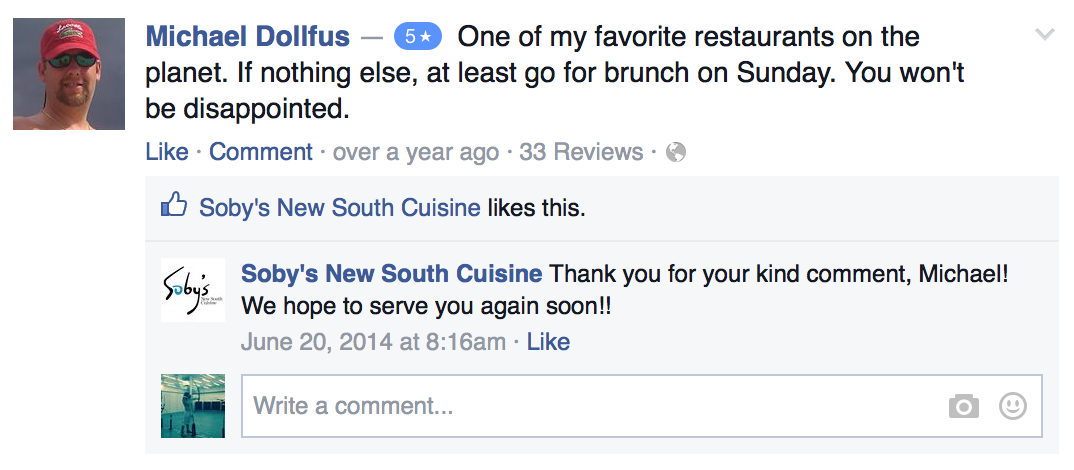 What is your biggest online review issue? Tell us in the comments!
Alex is Connectivity's VP of Marketing.