Sure, not everyone looks forward to going to the dentist. But, they do love getting discounts, learning health tips, taking part in contests and seeing what happens behind the scenes in a dental practice.
Facebook users follow new businesses daily, so why shouldn't they also follow their dentist? If you make your Facebook page interesting and engaging, your patients will look forward to seeing what you'll post next.
Social Media for Dentists
The key is to successful social media marketing for dentists to give your audience what they want, not what you think they want.
For example, explaining the step-by-step procedure for performing a root canal will make your readers squeamish. Don't do that. But, giving them a short video tour of the newly remodeled kid's exam room complete with costume-like aprons for little ones to wear and a giant television mounted to the ceiling for them to watch cartoons on during the visit, will make parents a little more eager to schedule an appointment for their apprehensive child.
It's never a waste of time to reach out to your potential and current patients on Facebook. Think of social media as part of your marketing or advertising efforts. If you have a marketing team, social media management should be part of their duties. If your clinic is a smaller operation, consider hiring a social media manager to strategize, post and boost engagement rates on your Facebook Page.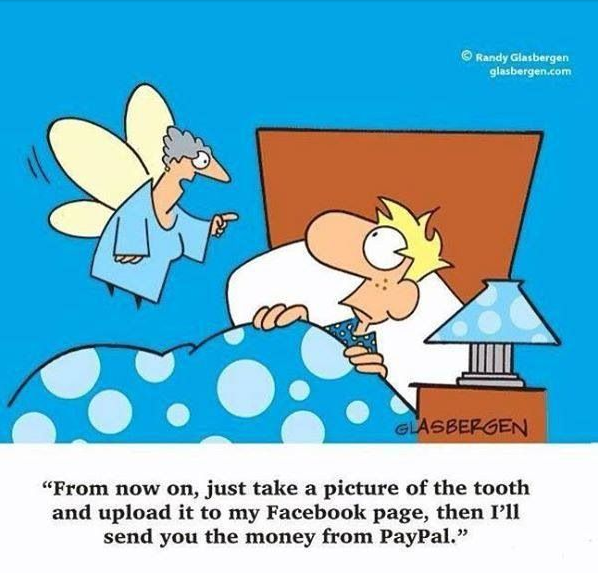 Social Media Post Ideas
If you'd rather manage your own Facebook account, go for it. But keep in mind that you need to post and reply consistently, monitor the page for inappropriate comments and answer any private messages quickly to keep your reputation for good customer service intact.
Need a few ideas for posting? Try adding these to your Facebook Page:
Take a photo of each staff member at the clinic and post one photo a day with a bio of the person and explain what they do at the clinic. Keep the posts short and interesting.
Share new technology and options that will make patients more comfortable. Do you use flavored cleaning gels? Do you have multiple sedation options available?
Explain how convenient the clinic is for patients. Are you open early or late to accommodate day-time workers? Do you have weekend hours? Do you have multiple locations? Are you located on a major transportation line?
Host a smile contest and give away an electric toothbrush kit to the winner. Ask readers to post their best toothy smile photos for judging by the dentists. People love posting selfies and photos of their children online!
Every business, product or service can benefit from having a Facebook Page. Being a dentist is no different. Even though your patients may only visit your physical location once or twice a year, keep your services at the tops of their minds by creating a presence on Facebook today. After all, they're browsing this social media platform daily — you might as well be there too!
Ready to learn more? Get our Guide to Social Media for Local Business
Angela is a contributor to the Connectivity blog. She also writes about content marketing and working online at Web Writing Advice. Angela was ranked in the Yahoo! Top 1000 Writers from 2009-2013.