If you're like many small business owners, you rely on word-of-mouth referrals to drive business, and why not? You have a fantastic product or service, a high customer satisfaction rating, and many loyal customers. But even with amazing word-of-mouth, if you're not using digital marketing as part of your overall marketing strategy, you're probably missing out. One study shows that 94% of consumers do research online before making a purchase. If you're not online they can't find out about you.
How Do You Start?
When it comes to digital marketing, you might wonder what platforms are best for you given that there are seemingly more digital marketing options than there are apples in an orchard. The good news is you don't have to use every digital marketing platform out there. You can start small—and stay small if you want. With a few simple steps, you can identify which digital marketing options are best for your business, and take up the least amount of your time. As a small business owner, the last thing you have is extra time on your hands.
For a deep dive, Zion and Zion offers a great guide to online marketing.
Go Where Your Customers Go
Before you select a digital marketing strategy, figure out who your target market is and where they get their information. Women older than 50 looking for a new local restaurant use different social media sites than teenage boys searching for skateboards. Just as companies selectively choose which television shows during which to buy ad time, you should be selective about what digital marketing options you use. Just because it's out there, doesn't mean your company should use it. Instead, choose social media and digital options based on your customers' needs and habits.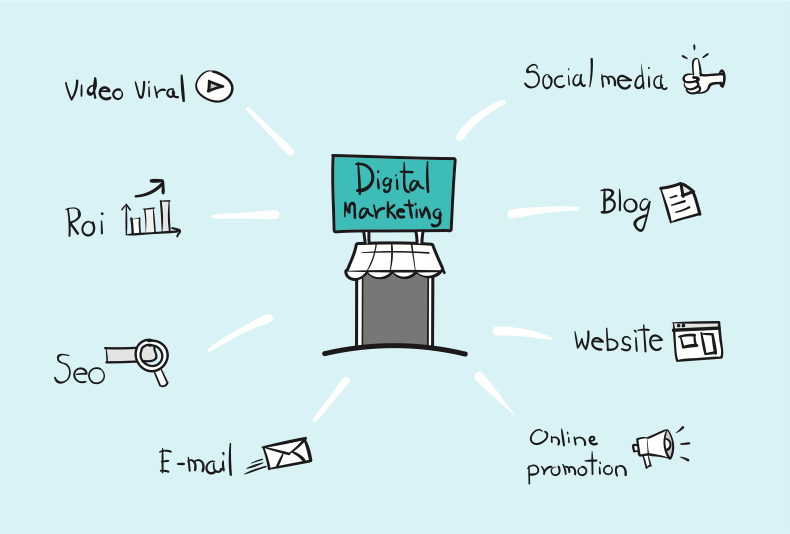 Ask Questions
Get to know your customers. Do your customers read blogs for information? Set up a blog. Do they rely on their friends' referrals before choosing a company to buy from? Get a Facebook page, where customers can talk about how happy you made them. Where are your competitors marketing themselves? If they're on Google+ and drawing a lot of business, consider a Google+ page.
Do you get excellent reviews of your restaurant? Try Yelp. Are you short on time? Hire someone to take over aspects of your digital marketing—or purchasing targeted ads that you don't have to think about once they're up. Are you short on money? Some platforms, such as a Twitter, are free.
Have an Online Presence
Regardless of your target market, almost everyone does some research before they buy. If you don't have something online (a website or Facebook page) that lists your store's location, hours of operation and goods or services offered, you're missing out on potential business.
Digital marketing still allows you to use word-of-mouth referrals to generate business. But if you're online, that word-of-mouth has a much larger reach. Rather than one person telling another person how amazing your business is, one person can tell 50 or 100 (or 1,000) people about you.
And as a business owner, you know that the more people who hear how awesome you are, the better.
Miranda Ryder is an Volume Nine SEO expert and contributor to the Connectivity blog.