You've heard us say it before, but we think it bears a little repeating: email marketing is the bee's knees and the cat's pajamas. You really need to be all over that email game.
We'll skip the stats about how emails are still King and Queen of marketing. Sure, we all get a lot of it, but people still want to hear from brands and businesses they admire. It's also very personal, more so than a marketing message sent by text or a postcard in the mail.
Email arrives in our pockets (in the case of our mobile device) or on our laptops when we're surfing late at night. Email can tell us thing we don't know. If you don't already email your customers, plan to do it soon. Start building that customer list and get ready to boost your revenue with a simple email campaign.
Here are three tried-and-true tactics:
1. Tell us about a product or service customers may not know about
Threadless sent me an email introducing their artist shops, along with an offer to double your sales, up to $1000. I know a lot of artists and I immediately began to rethink Threadless as a place for silly tee shirts and reconsider it as a legitimate place to make some money for the creative folks in my life. I forward the email to several friends instantly.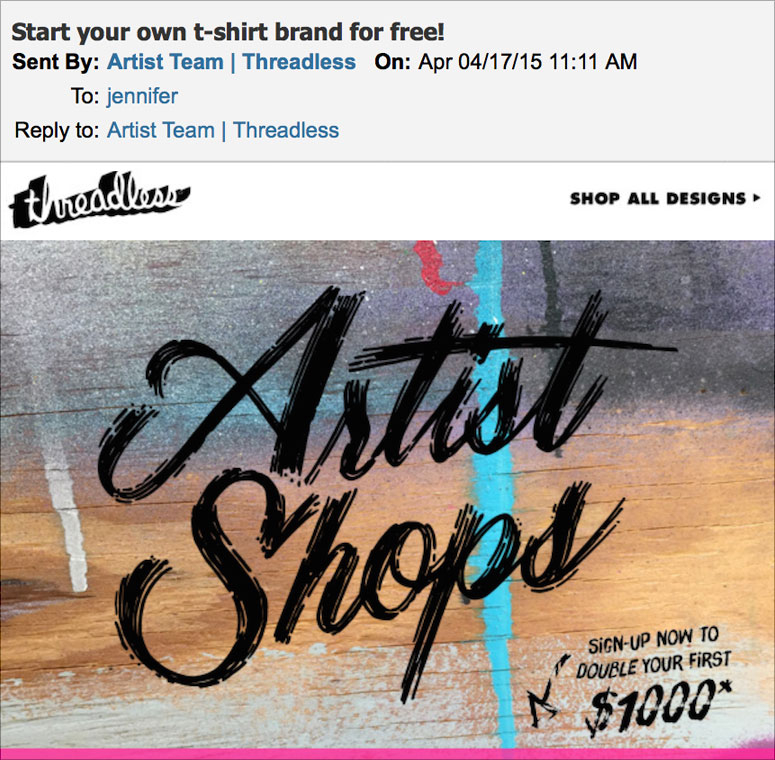 2. Send offers that inspire
It's lazy to constantly email "Sale! 15 percent off!" to your list. Get creative and put some meaning behind your message.
Botanical Interests sent this offer my way before Memorial Day. I clicked through immediately.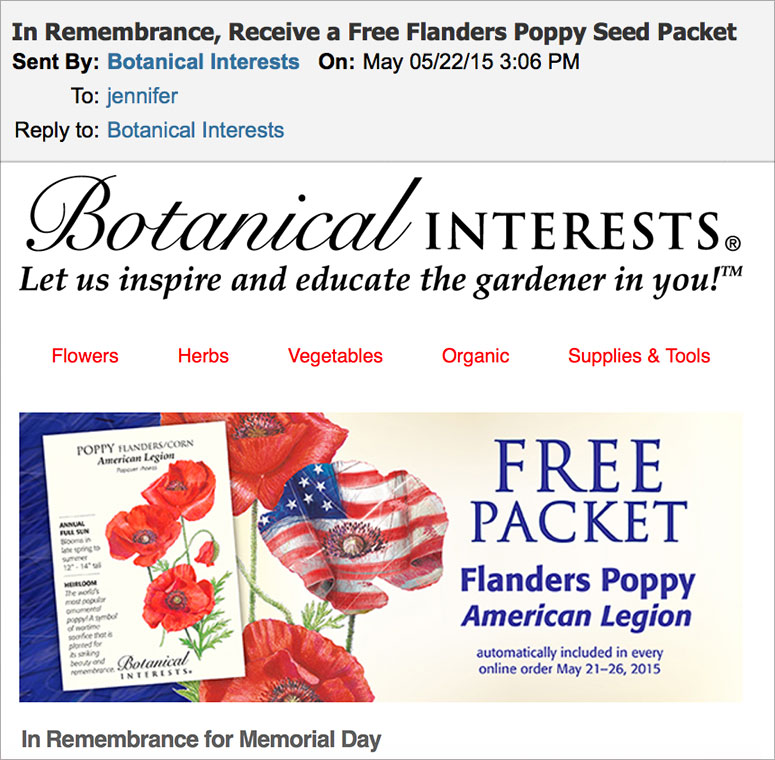 The free Flanders Poppy offer with purchase was moving. The Flanders poppy has a long history dating back to World War I where it blanketed the warzone of Flanders Field along the coasts of Belgium and France. Botanical Interests informed me that in 1920, "the American Legion adopted this red poppy as its memorial flower."
Use similar content in your emails to inspire and educate. You can use local history; a cause you support; or simply your personal story about why a certain product or service matters to you.
3. Surprise us by email
Food blogger Lisa Leake from 100 Days of Real Food sent this email to me. I don't think I ever stopped to think that I don't receive Lisa's emails on the weekend, but her subject line reeled me in: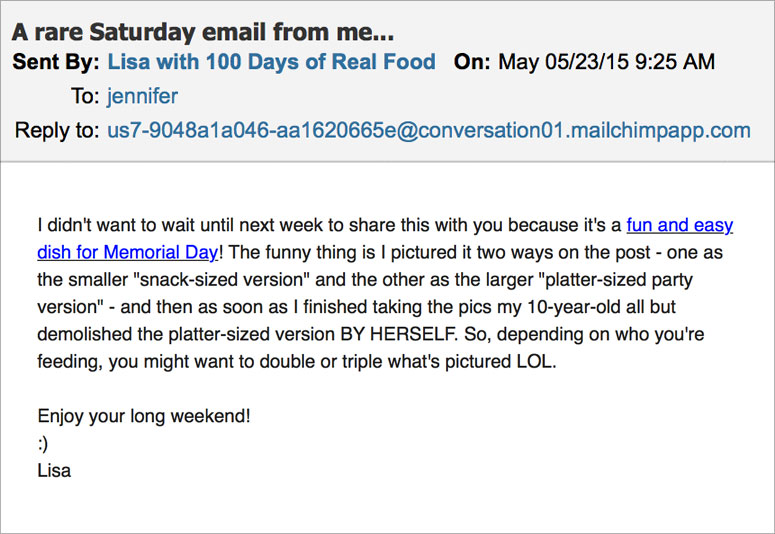 The content inside was good with a link to Memorial Day fruit kabob recipe. But the email reminded me that I wanted to purchase Lisa's cookbook she released last year. From the email to Amazon took about two seconds and "One-Click Ordering" later, the cookbook was on its way to me.
Email can remind, surprise and inspire. Don't miss out on a powerful way to connect with customers and boost your sales. Tell us more and you'll sell more.
Jennifer is a Content Strategist for Connectivity.