Editor's Note: Before we dive into Facebook news, Connectivity would like to wish everyone a Happy Hanukkah, bright in joy and warm in memories.
You may have heard the news that Facebook was reducing the already paltry stream of brand posts it would deliver to your followers' News Feeds. Most marketers already knew this change was in the cards, but it was still a source of frustration for brands who had amassed a healthy Facebook audience.
Now, Facebook has returned with better news. Last week, the social giant announced several new tools that were well received by publishers and the people who love them. The tools are designed to assist businesses and brands in reaching and connecting with their followers. We like the tools most of all because you can now try to understand your followers. (And yes, we realize that while the number of posts Facebook "allows" your followers to see may be decreasing, it can't hurt to analyze who interacts with your Page. And it's for free, at least, for now. )
Interest Targeting
With Interest Targeting, publishers can take advantage of a powerful feature that already exists with Facebook ad creation: the ability to reach people who like your Page based on their interests. In this case, though, publishers are offering content instead of an ad. With Interest Targeting, a baby boutique could write a post that targets people who like certain parenting magazines or television shows.
This feature is enabled for all Facebook business Pages on the desktop. But you won't see it unless you have enabled the Targeting and Privacy setting. (Go to your Page and select "Settings; " that's where you'll find it.)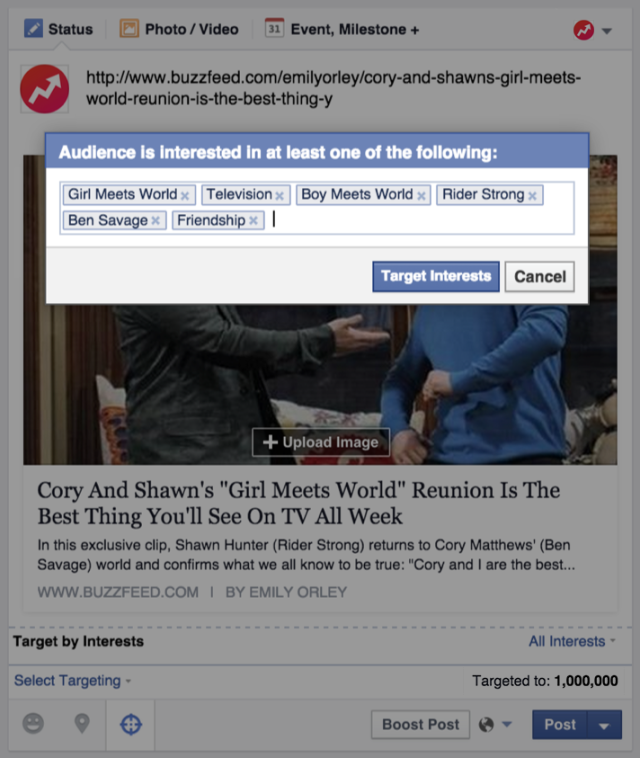 Photo courtesy of Facebook 
Post End Date
No more out-of-date sales or expired coupons that might frustrate a follower. Post End Date allows Page admins to specify a day and time to stop showing a post in News Feeds. Note that posts will disappear from News Feeds but will still appear on your Page.
Currently accessible only on the desktop, this feature is available to all Pages that have enabled the Targeting and Privacy setting.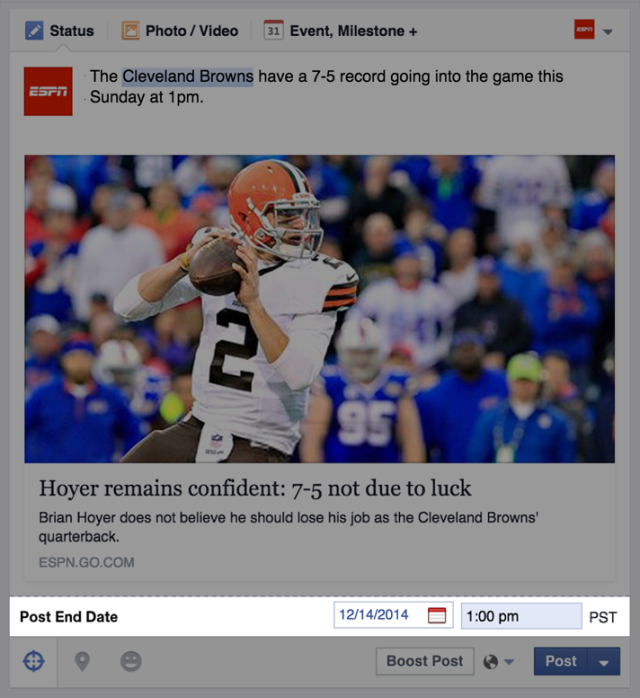 Photo courtesy of Facebook
Smart Publishing
Facebook's new Smart Publishing is an optional tool that identifies and pushes out stories that are trending on Facebook from a publisher's website.
Once the setting is enabled, frequently shared links to the publisher's website can pop up in News Feeds for people who like the publisher's Page. Note that those news stories will not appear on the Page itself. A new Insights dashboard will offer analytics, comment moderation and a choice of what posts admins wish to push to the Page.
Smart Publishing is currently available to a limited number of media organizations but larger access will be granted in 2015.
Supercharged Insights
Facebook has improved Insights to show how Pages and social plugins drive traffic to websites. There's a new Top URLs section, which displays URL-level reporting and shows when other Pages and influencers share a post you've made to Facebook. The interface has been tweaked to be more intuitive and offer data segmentation for specific time ranges.
Have you had a chance to play around with the new Facebook tools yet? Tell us in the comments; we'd love to hear what's working for you.
Ready to learn more? Get our Guide to Social Media for Local Business
Alex is Connectivity's VP of Marketing.