Editor's Note: We're happy to welcome Erron Silverstein to the blog today. Our new blog series, "Meet the Connectivity Team," features travel and hobby photo essays from our fantastic Connectivity employees. Erron, Connectivity's CFO and Co-Founder, traveled earlier in the year to the Puglia and Basilicata regions in southern Italy. Here are his travel impressions. 
October 2014:  Trip to Puglia and Basilicata
I have always been fascinated by the fact that the Normans started to conquer southern Italy and Sicily 30 years before the Norman conquest of England. The family of Tancred of Hauteville, twelve sons of an otherwise unremarkable petty noble only remembered because of his descendants' success, took over Naples, Puglia, Basilicata and Calabria (the middle, heel, arch and toe of the Italian boot) before the Pope had the first real crusade under Robert Guscard, duke of Puglia, and his brother Roger, the great count of Sicily, to take Sicily back from the Arabs. Although the Normans succeeded in their crusade, the papacy did not exactly view it as a success: the Normans took 30 years and founded a tolerant diverse society which integrated Byzantines, Arabs and Jews within a trading empire stretching from North Africa to the Middle East. Then Guiscard attempted to take over the Byzantine empire himself. Later, his nephew Roger II of Sicily forced an anti-pope to crown him king of Sicily. This kingdom lasted 800 years in one form or another until Italian unification in the 19th Century under Garibaldi and Cavour.
Although I wanted to see Puglia and Basilicata primarily for the landscape, beaches, castles and cathedrals, the most important reason was for the wine and food. The seafood on the Adriatic is phenomenal; the wine is a form of the primitivo grape the we get zinfandel from; and grains, cheese, meat and vegetables are amazing.
This region is rapidly becoming discovered as a foodie destination so it lacks a lot of tourist infrastructure. Trains and busses are primarily operated by private companies and don't run very frequently or on time, so you need to have a car to get around. However, watch out for the Pirati della strada (literally the "road pirates") because Puglia still has highway robbery.
Castel del Monte  – Andria, Puglia
German Emperor and King of Sicily Frederick II built this strange octagonal castle, with eight octagonal turrets and an octagonal internal courtyard. Unlike a castle with a moat, outer curtain, gate house, murder holes and a draw bridge, it's filled with occult and alchemical symbolism as well as sacred architecture dating back to classical times. Frederick learned this growing up in Palermo with Arab, Greek and Norman tutors. He was emperor for nearly 50 years and was able to convince the Arabs to give Jerusalem back and the Pope excommunicated him because he didn't need to fight. Go figure.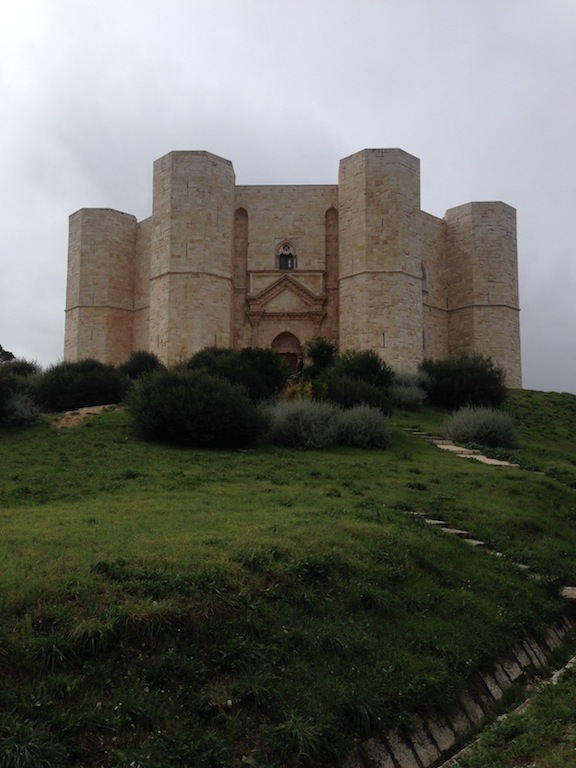 Trani, Puglia – Seascape and Cathedral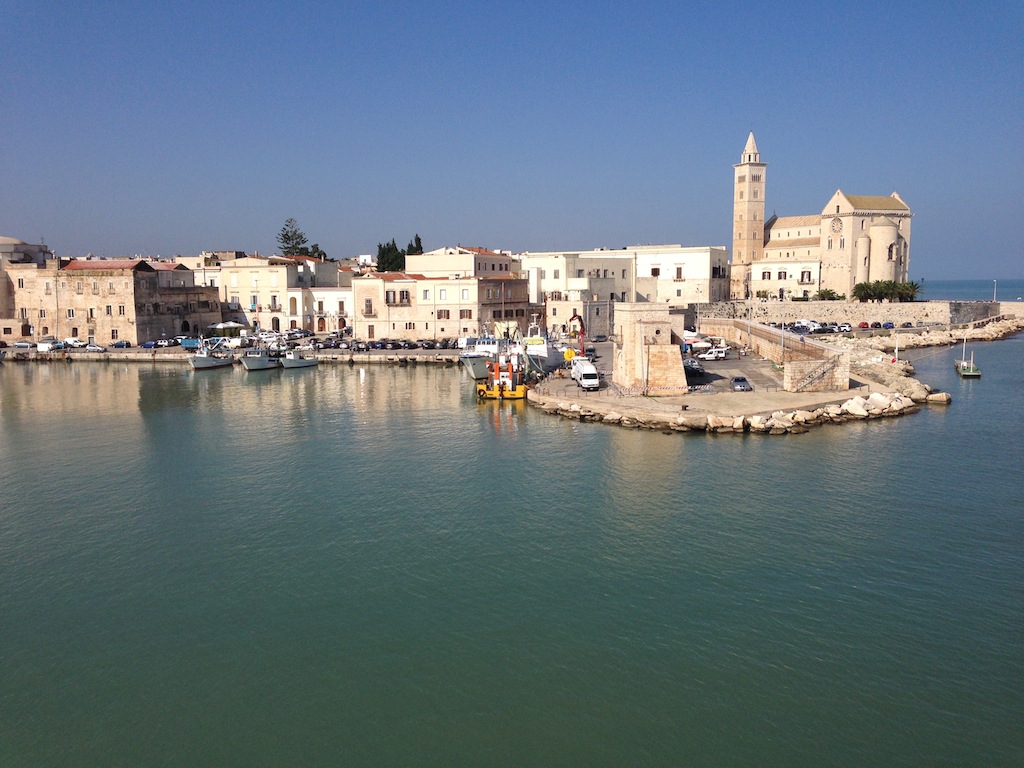 Trani is a sleepy seaside town just north of Bari, the capitol of Puglia.  However, it's a world away, still stuck in the middle ages. It has a  wonderful Romanesque cathedral built on a peninsula jutting into the  Adriatic, plus the most amazing fresh seafood sold on the pier twice daily.
 Matera – Basilicata
 Matera is a city built on a karst outcropping of  rock; this means if you  pour water on the ground it does not stay in the water table but instead  leaks out to the sea. It is a virtual desert so since the stone age,  inhabitants have built cisterns to store water underground. They also  excavate new rooms in their houses by digging downwards. This area has  been inhabited since at least 15,000 years ago and it is filled with caves  and construction similar to Stonehenge.
Even as late as 1952, people living in Matera were still using this primitive form of water engineering and living in caves, so the Italian government evacuated the city and forced the people to move to apartments. Since 1992, Matera has become a tourist destination. It resembles a landscape from either Bosch or Bruegel and has been used for several famous movies including Pasolini's "Gospel of St. Matthew" and Gibson's "Passion of the Christ" as well as numerous other movies and television shows. Scary to think that it does not require much set decoration.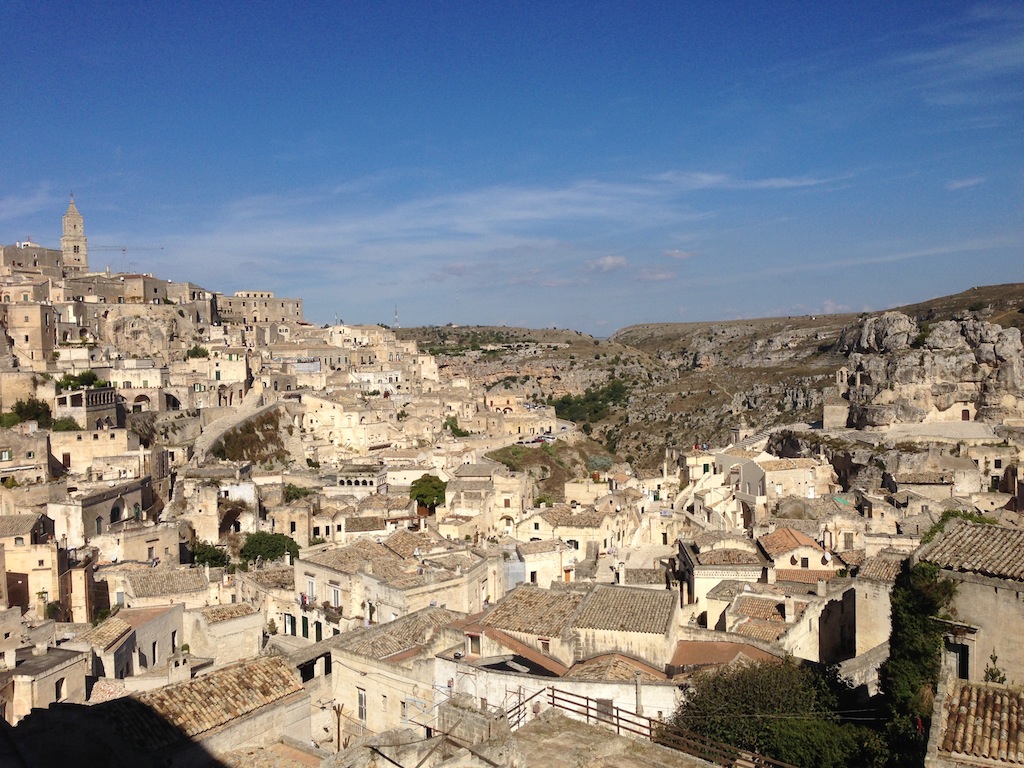 When I was in Matera this October, the city was competing to be the capital of European culture for the EU in 2019. The city won, so it will now hopefully get the attention to attract a new generation of tourists to enjoy the unique landscape and architecture.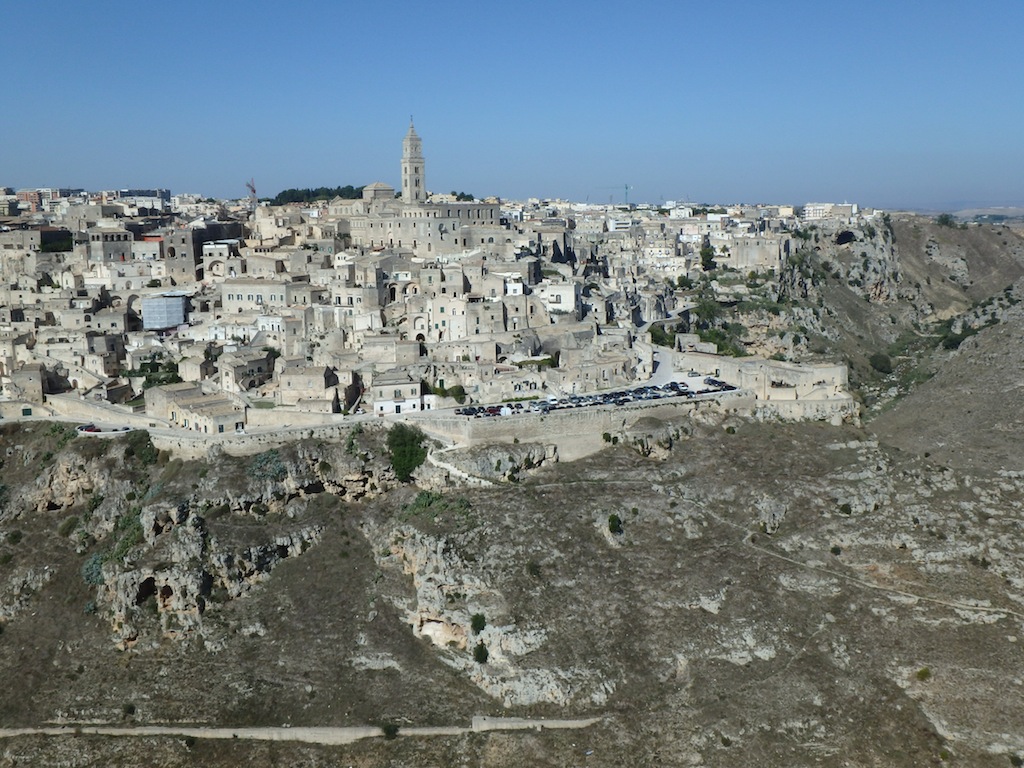 The limestone hill Matera is built upon has been cut through by a warren of caves for dwellings, churches, cisterns and storage. I ran into this de-sanctified church which was being fixed. It was a classical basilica shape carved out of stone. After about 100 feet I stopped walking into it because it was quite creepy.
Alberobello & Martina Franca: Home of Trulli
If you ever consider going to the Valle d'Itria in central Puglia, somebody will invariably tell you to go to or stay in either Martina Franca or Alberobello to see trulli. Don't listen to them. Although they are supposed to be authentic vernacular Puglian dwellings, they are actually some sort of tourist trap made in the 1970s. You almost expect to see Papa Smurf walk out and say hello to you.
Trulli are very cold, so are great for summer months, not so in the fall or winter. In retrospect South and North Puglia have a very different feel. Authentic Pugliese build square/frustrum-shaped dwellings for animals and agricultural needs; trulli are primarily for short term storage of stranieri like me or odds and ends.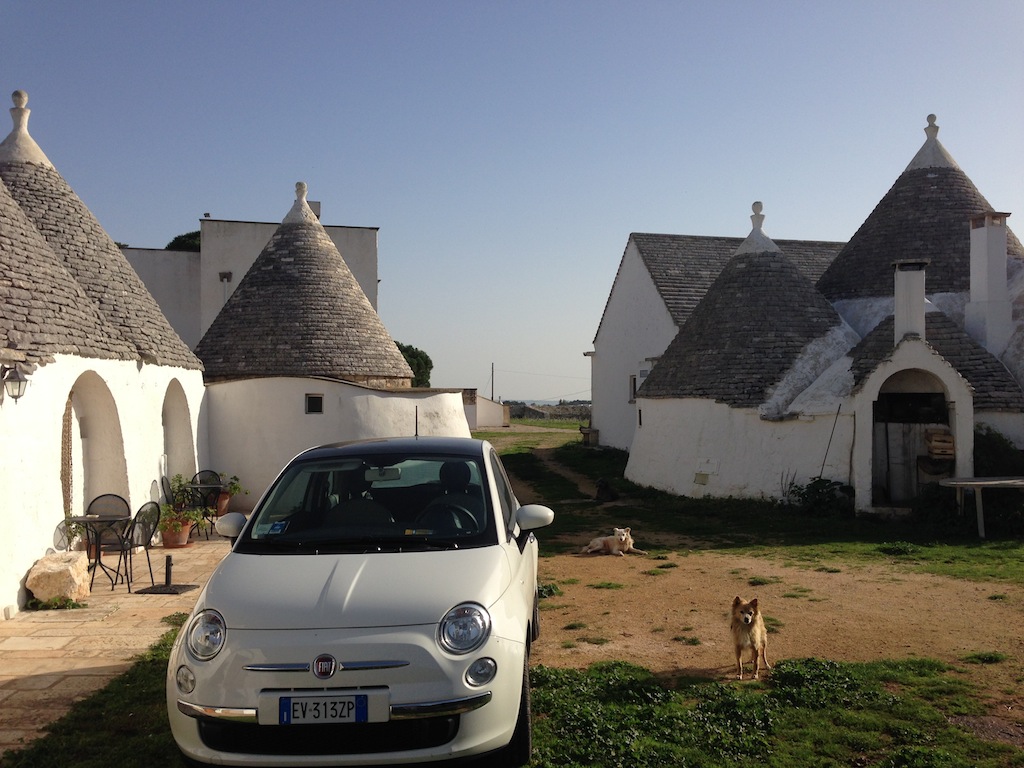 The "heel" of Italy is called the Salentine Peninsula, or just the Salento. It is Italy's unofficial "third largest island" after Sicily and Sardinia. You are never more than 10 miles from the coast, so the seafood is absolutely phenomenal. Wine is great, too. I stayed 5 days in Lecce, which is called the "Florence of the South" because of its lovely Baroque architecture.
Lecce Baroque art is distinguished by intricately detailed carved limestone hardened by boiling in milk. Since Romanesque times, Puglia's churches have a history of religious scenes and monsters, but Lecce has the most ornate of all of them. The following are photos from the Chiesa di Santa Croce.
Want to see more of Erron's journey? Check out additional photos on Flickr.